---
obecný popis el. zapojení rozdělovačů V6 motorů...
1. 5. 2007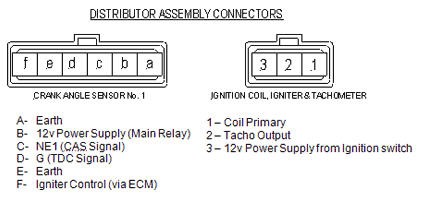 1. Turn ignition on and disconnect both loom plugs from distributor. With a multimeter, check that 12v supplies are present at terminals B and 3, that OV is measured on terminal A and E and that 5V is measured on terminals C and D (crank sensor pull-up voltages).
2. Reconnect loom plugs to distributor and with an oscilloscope, whilst cranking the engine, a 0-5 square wave pattern should be seen on terminals C and D. A 0-3 volt square wave pattern should also be observed on terminal F whilst cranking engine. Terminals 1 and 2 (which are internally joined) should both have an ignition coil primary pattern present during cranking. Ignition coil primary resistance (between terminal 1 and 3) should measure 0.5 – 0.9 OHMS. Secondary coil resistance (between terminal 3 and centre post) should measure 11-19 k ohms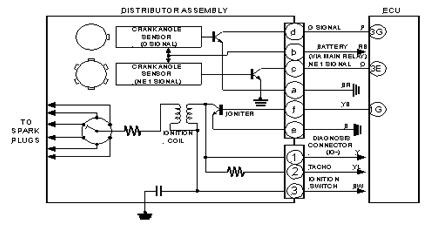 převzato z : Technical Bulletins Injectronics Australia Pty Ltd. tu je i pár dalších dostupných servisních upozornění ...
///////////////////////////////////////////////////////////////////////////////////////////////////////////////////////////////////
___upozorňuji, že barvy a pozice pinů zde vyobrazené odpovídají rozdělovači KL01 evropské verze 626(MX-6) GE příp. FordProbe ___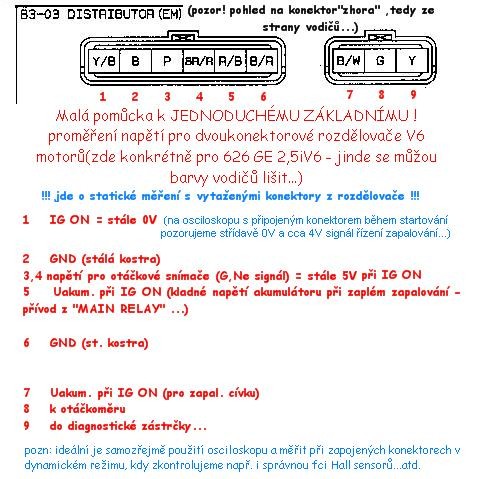 ______________MX-3 změna zapojení na konektoru rozdělovače__________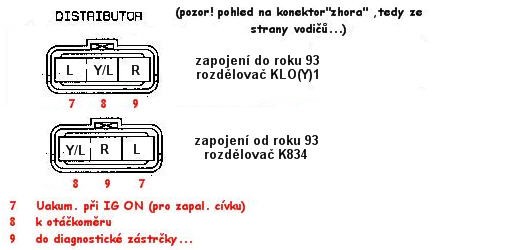 _________________________________________________________________